There are a lot of urban legend type stories about Randall Grahm and he has been called many things, ranging from mad man, wine industry's court jester, irreverent, creative, master promoter and genius. He has been inducted into the Vintners Hall of Fame and his book, "Been Doon So Long," won a James Beard Foundation Award.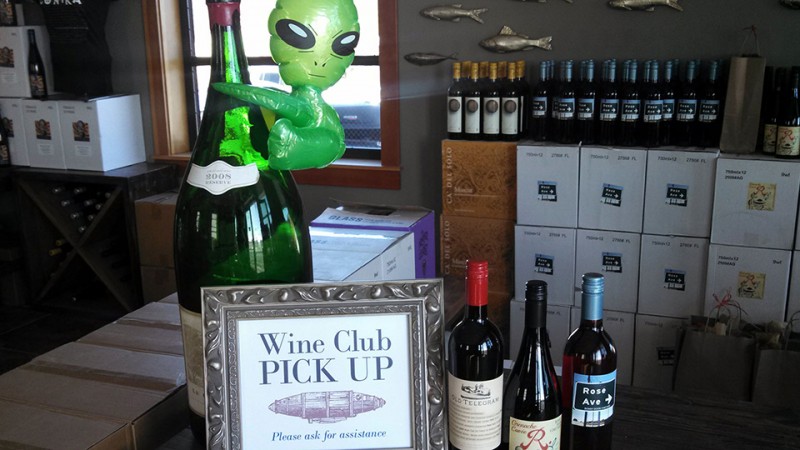 In 2002 he held a mock "funeral" for the cork meant to herald support of
scew caps
which adorn his wines. After visiting his tasting room and tasting his wines some of these statements may be true, but in the end its about the wine. Come to discover we even share a common philosophy about getting started with wine drinking and starting a collection. "You shouldn't buy too much of any one wine when you are getting started".
The
Bonny Doon Vineyard
has enjoyed a long history of innovation, one of the first was to popularize Rhône grapes in California. But we digress, this is about a wine purchase.
On the day of our visit to taste the wines at the Bonny Doon Tasting room the one bottle rule was busted again. Yes there is a reasonable excuse if not a mandate, because that day there was a two for one sale was happening on one of the wines that were enjoyed. During this visit there were a couple wines that were purchase worthy but the
2012 Pinot Noir "Spanish Springs"
got our attention and was a sealed deal with the two for one sale.
Rather than give you our tasting notes, here are the ones from the folks who are intimate with this wine. (in general we agree but we don't pick up all the nuances listed here)
TASTING NOTES
In the nose, wild strawberry, mint, white pepper, anise and allspice. In the mouth, strawberry-rhubarb and beetroot, which is one of the fail-safe signifiers of Pinosity. This is a more delicate expression of Pinot, but one that is incredibly true to Pinot's Platonic essence.

The Bonny Doon Tasting room is comfortable, relatively spacious and easy to find. The decorations are, well, eclectic and fun and the staff are pretty knowledgable. They are closed on Tuesdays but open from 11 - 5 everyother day of the week.except a few holidays that you can check out on their website.
To continue with a theme than runs all over the Bonny Doon tasting room and the website. This light and delicate Pinot Noir has 'doon' stole our hearts. Giving it a rating of a
7 and because of the two for one sale a ****
purchase.